Tourists from 38 countries in Europe, 7 in Asia, as well as the US, Canada, Australia and New Zealand, will be eligible to apply for the new visas
Saudi Arabia opens its home and heart
Kingdom looks to woo and wow visitors with warmth and wonders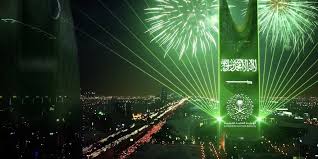 Saudi Arabia has formally announced the launch of tourist visas for international visitors from 49 countries at a historic event held by the Saudi Commission for Tourism and National Heritage (SCTH) in Riyadh's Diriyah on Friday. Speaking at the event, Ahmad Al-Khateeb, president of the Saudi Commission for Tourism and National Heritage (SCTH), said: "Tonight, we make history. For the first time, we are opening our country to tourists from all over the world.
To those thinking of visiting Saudi Arabia, you won't find a warmer welcome anywhere in the world. And you won't find a people prouder to share the riches of their land with you. Make no mistake, this is Vision 2030 in action. Under the leadership of his Majesty the King and His Royal Highness the Crown Prince, we are delivering — supercharging a non-oil sector that will drive growth and diversify our economy for decades to come. Saudi Arabia is opening. We are opening our economy. We are opening our society. Now we open our home and open our hearts to guests from around the world. Come, visit Saudi. And let us welcome you to Arabia."
How do I get a visa?
People from the 49 countries included in the program who are over 18 can go to visa.visitsaudi.com and register and apply for a visa. They can apply online before the trip or at a kiosk upon arriving in Saudi Arabia. The kingdom says decisions will be made in half an hour. The visa fee is 440 Saudi riyals ($117) and includes a health insurance fee. Applicants under 18 must apply with an adult guardian.
Tourist attractions
Five UNESCO World Heritage Sites and a staggering 10,000 recorded sites of historical interest.
Thirteen regions, each with a distinctive cultural history and culinary tradition.
A contemporary culture scene that includes the King Abdulaziz Centre for World Culture in Dhahran, sculpture parks, art galleries, fashion shows, literary events and the inaugural Red Sea International Film Festival in March 2020.
A surprisingly diverse range of landscapes, including the green mountains of Asir, the crystal waters of the Red Sea, the snow-covered winter plains of Tabuk and the shifting sands of the Empty Quarter.
A number of new destinations under construction, including the futuristic city of NEOM, the Qiddiyah entertainment city near Riyadh and a range of luxury destinations by the Red Sea.
Opening Saudi Arabia to tourism is a key milestone in the implementation of Vision 2030, which seeks to diversify the country's economy and reduce its dependence on oil.
Kingdom expects to achieve 100 million international and domestic overnight visits a year by 2030, attracting significant foreign and domestic investment and creating up to a million jobs.
By 2030, the aim is for tourism to contribute up to 10 percent of the country's GDP, compared to just 3 percent today. Applications for the visas can now be made at Saudi embassies and consulates across the world.
Citizens from 49 countries will also be able to apply for an e-visa online or get a visa on arrival into Saudi Arabia. A dedicated online portal at visitsaudi.com has been launched and electronic kiosks are available at airports.