Saudi Arabia ready to open labor market for Bangladesh soon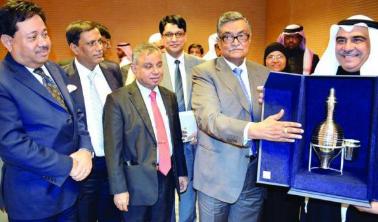 Saudi Labour Minister Engr. Adel bin Muhammad Fakeih expressed his country's readiness to open up the labor market for Bangladeshi workers shortly.
He expressed this desire during a meeting with Bangladesh Expatriates' Welfare and Overseas Employment Minister Engineer Khandker Mosharraf Hossain today in Riyadh, an official release said.
The bilateral meeting between the two ministers was held in the backdrop of a long standing impasse on labor export from Bangladesh.
During the meeting, the Saudi minister termed relations between the two countries a time tested and deep rooted, one with common history, faith, culture and traditions.
Engineer Mosharraf appreciated the noble gesture of the Custodian of the Two Holy Mosques King Abdullah bin Abdulaziz Al Saud and his Government towards Bangladesh over the years, particularly in providing facilities to change the Iqama and regularization of employment status during the amnesty period from May to November 2013, which facilitated regularization of 7 lakh 99 thousand 186 Bangladeshi nationals in the Kingdom.
He also expressed the gratitude of the Bangladesh Government to the Custodian of the Two Holy Mosques and the Government of the Kingdom of Saudi Arabia (KSA) for permanently opening the iqama transfer and profession change for expatriate Bangladeshi nationals since 16 February 2014.
The Saudi Labor minister underscored the transparent mechanism of recruitment process with online verification by all parties involved in the process. In this regard, he proposed involvement of Skill Verification Services (SVS) in the recruitment process, particularly to secure interest of both employees and employers.
He proposed introduction of a "life-cycle" monitoring system for domestic workers from the day they take up a job in the KSA, which is to be maintained until the end of their employment.
The Minister also suggested for developing an online portal, a repository of information related to workers from Bangladesh, for future use by the Ministry of Labor, the Court and other authorities.
Saudi Deputy Minister of Labor Dr Ahmed Alfahaid and Prince Saud Bin Talal were present in the meeting.
From Bangladesh side, Senior Secretary of the Prime Minister's Office Md Abul Kalam Azad, Bangladesh Ambassador to KSA Md Shahidul Islam, Secretary of Ministry of Expatriates' Welfare and Overseas Employment, Khandaker Md Iftekhar Haider, Director General Bureau of Manpower Employment and Training (BMET) Begum Shamsun Nahar, Director General (West Asia) of the Ministry of Foreign Affairs and Bangladesh Consul General in Jeddah were present.