Saudi Boycotts Holland over Anti-Islam Slurs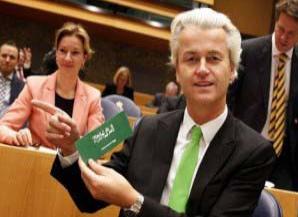 Far-right Dutch politician Geert Wilders has put his country in hot water after distributing stickers with the Saudi-flag, replacing the text of the shahada with anti-Islam slurs, after which the Kingdom slapped indirect sanctions on the European country.
"The constant criticism towards both the Islamic faith and the Kingdom itself by Dutch politicians, media and opinion makers over the last few years is a thorn in the side of the Saudi authorities," Arnoud van Doorn, formal member of Wilder's Freedom Party, who recently reverted to Islam, told OnIslam.net.
"Various high-ranking Saudi government officials also addressed this topic in conversations I've had with them.
"The Kingdom has repeatedly stated not to be amused with the current situation in the Netherlands. The Dutch embassy in Riyadh has probably underestimated this or failed to take it seriously."
Problems erupted last week when the Council of Saudi Chambers received an order from the Saudi government banning Dutch firms from taking part in future projects in the Kingdom.
The Kingdom will significantly reduce the number of visas for Dutch companies and investors who are not part of vital projects in the Kingdom.
The Saudi order came in a response to Wilders' latest anti-Islam slurs after he distributed stickers with the Saudi flag, replacing the text of the shahadah, declaration of faith, by profanities towards the Islamic faith.
The slurs have affected a long lasting relationship between Netherlands and the Kingdom, threatening to influence four billion dollar annual business between the two countries.
In fact, the first bank to operate in the Kingdom is the Saudi Hollandi Bank, a branch of the Netherlands Trading Society.
Currently, there are 50 to 100 Dutch companies doing active business inside the Kingdom and over 600 Dutch expats who live there.
Laurens Westhoff, the Dutch ambassador in Riyadh, is also very outspoken on the business opportunities within the Kingdom and frequently attends international business events inside the country.
Commenting on the ban, a spokesperson of the Dutch Foreign Affairs Ministry told OnIslam.net that the Dutch government officials did not experience a growing anxiety regarding anti-Islamic sentiments within the Netherlands.
"Not until this incident," she states.