Saudi cleric slams fabricated news against Saudi Arabia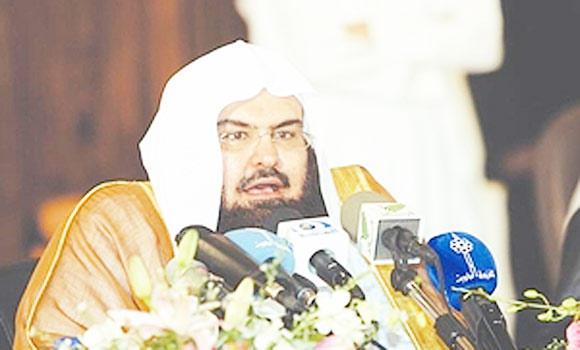 The Imam and Khateeb of the Grand Mosque in Makkah called on Friday for "unity" in the face of "fabrications" against Saudi Arabia over the disappearance of Saudi journalist Jamal Khashoggi in Istanbul, Turkey.
"Repeated accusations, allegations and biased media campaigns will not discourage (Saudi Arabia) from holding to its principles," Sheikh Abdulrahman Al-Sudais said during a sermon accompanying Friday prayers at the Grand Mosque in Makkah, the holiest site in Islam.
The Kingdom "depends on God alone, then on the wisdom of its leadership and the unity of its sons to fight false allegations", he added.
He urged Saudis to "depend on facts and avoid speculations or jumping to conclusions and basing positions on… fabrications", adding that a "campaign" against the Kingdom was "a provocation against the feelings of more than a billion Muslims" around the world.
In his Friday sermon, Sheikh Al-Sudais further said that the Islamic Shariah is replete with all that is beneficial for man's religious and worldly matters. "The Shariah rules and intentions have filled the world with justice, wisdom and compassion," he stressed.
Al-Sudais quoted Imam Al-Taher Bin Ashour as saying that the intention of the Shariah is to maintain world order and control people's actions so as to prevent them from doing evil or harming one another.
He emphasized that the Shariah requires pious religious scholars (Ulema), with unique and incomparable intelligence and the ability to issue correct personal opinion (Ijtihad) after weighing matters in line with the Shariah requirements.
Al-Sudais quoted Imam Al-Shatibi as saying that a human being can have knowledge only of some aspects of the Shariah and what is evident is much less than what is unseen to man.
Al-Sudais stressed that religious edicts should not be issued without care, as it is not a constant. "Issuing religious edicts (fatwas) changes with time, place, conditions, customs and traditions and people," he said.
Thanking Allah Almighty for His blessings, including the Shariah and cultural and moral excellence, Al-Sudais said that these virtues make the Kingdom an example to be followed by others in safeguarding the ideals and moral excellence. – SPA with input from agencies.