Saudi Embassy launches career day in London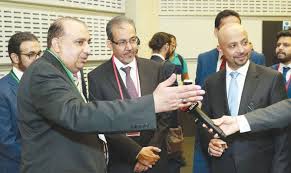 The Saudi Arabian Cultural Bureau launched its Career Day and Career Guidance exhibition in London on Saturday. The exhibition is being held under the patronage of Prince Mohammed bin Nawwaf bin Abdul Aziz, Saudi Arabia's ambassador to the UK, and its theme is "My Vision, My Future 2018."
Several Saudi government and private institutions participated in the event, which was attended by a number of UK-based Saudi students.
Saudi Arabia's cultural attaché in the UK, Dr. Abdul Aziz Al-Maqoushi delivered a keynote speech on behalf of the ambassador, and said the exhibition's aim was to help the public and private sectors enable Saudi youths to contribute to the Kingdom's Vision 2030 National Transformation Program.
"Our country is going through an important renaissance phase that embodies a stage of comprehensive development in which there is a focus on quality instead of quantity," he said. "This is the stage of maturity — in which we reap the fruit of our efforts."
He continued: "As you know, the Kingdom's Vision 2030 has focused on investing in humans to be an effective tool for achieving this transformation, which has begun by investing in education. The scholarship program, in particular, is an unprecedented world-class investment witnessed by everyone."
Al-Maqoushi went on to describe the Career Day as "a pioneering step that supports Saudi Arabia's development efforts" and gives "scholars the opportunity to engage in a promising economic transformation process."
Al-Maqoushi thanked everyone working at the cultural bureau for their efforts in organizing the event. He also praised Saudi scholars in the UK, and reminded them to focus on gaining knowledge to take back to their country.