Saudi engineer invents air-conditioned umbrella for pilgrims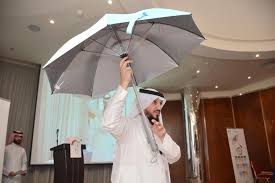 A Saudi engineer has invented an air-conditioned umbrella "Makkah Umbrella" which works by using the solar energy or even batteries to assist pilgrims avoid dehydration and heat exhaustion during Haj season as temperatures soar over 40°C in the holy sites.
Mohammed Hamid Sayegh, a resident of Makkah, was asked by a very close friend and his other engineering colleagues to think of creative ideas to make things easy for pilgrims for Haj 2017 especially that weather forecasters are expecting a very hot weather this year.
During the official launch of his invention here in Jeddah, Sayegh said "the demand for umbrellas has soared over the past years due the high heat and most of the foreign pilgrims from Europe, Asia and other parts of the world prefer to use umbrellas during their Hasj journey."
Sayegh first thought of installing a built-in fan inside the umbrella to keep pilgrims cool during the days of Haj.
Describing his invention, he said: "This air-conditioned umbrella works by using solar energy or by being charged by electricity or batteries. It is lightweight (610 gram only), easy to use, has a two-speed fan, and is easily connected to any water bottle installed in the canopy with a hand pump to push the water to the sprinklers."
The umbrella, he said, is able to work long hours by spraying water through the pumps. It is characterized by high capacities and is economic in water consumption making it an ideal choice for pilgrims, especially during this year and years which will witness unprecedented rise in temperature."
Raed Matar, marketing and sales manager of "Makkah Umbrella" was happy with the arrival of this umbrella this year which was made in China in order to create an appropriate atmosphere in the holy sites.
He also noted that this unique umbrella will not only be used by pilgrims but also others in this hot weather.
"Because of such high temperature which causes difficulties for the guests of Allah, it made us work hard to make this umbrella available in the market before the start of the Haj season. We have also ensured that the price is affordable for everyone," he said.
Sayegh has already registered his invention at King Abdulaziz City for Science and Technology (KACST).