Saudi king leaves France beach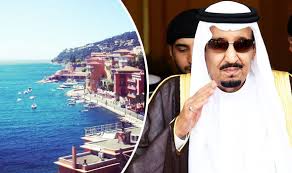 King Salman of Saudi Arabia unexpectedly left the French Riviera on Sunday, local officials said, adding that a beach that had been controversially closed for the royal's holiday would now reopen to the public.
Eight days after arriving in southern France for what was billed as a three-week luxury vacation, the monarch boarded a flight from Nice airport to the Moroccan city of Tangiers, Alpes-Maritimes region official Philippe Castanet told AFP.
According to the local prefecture at least half of the king's 1000-strong delegation was also leaving.
"We can assume that the king has ended his stay at Golfe-Juan," Castanet said, referring to the Cote d'Azur town of Vallauris Golfe-Juan where the monarch's luxury holiday villa is located.
The Saudi embassy had earlier said the stay would last until around August 20.
Security measures that had been put in place around the king's villa would now be "progressively lifted", Castanet said, adding that the stretch of beach in front of the villa would reopen to sunbathers and swimmers on Monday.
The closure of Mirandole beach for security and private seasons had angered locals, generating global headlines and prompting more than 150,000 people to sign a petition protesting against the "privatisation" of the public strip of sand.
"The beach will reopen at 9:00 am," Vallauris mayor Michelle Salucki told AFP.
The Saudi monarch's choice of Vallauris Golfe-Juan near Cannes for his holiday in the sun generated mixed emotions in the area.
While some residents grumbled at the closure of the beach, local traders rolled out the red carpet for the monarch and his big-spending friends.
Some members of the king's entourage had voiced their unhappiness at the level of scrutiny that their arrival induced.
It was not immediately clear whether the royal departure was linked to the controversy over the beach.