Saudi King Salman washes Makkah's sacred Kaaba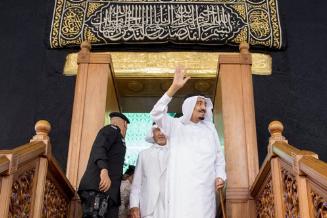 Saudi Arabia's King Salman bin Abdulaziz washed Sunday Makkah's sacred Kaaba as part of a yearly tradition before the beginning of the Holy month of Ramadan.
The Kaaba is at the center of Islam's most sacred mosque, al-Masjid al-Haram.
King Salman, who was accompanied by Crown Prince Mohammed bin Nayef, was received by the Governor of Makkah, Prince Khalid Al-Faisal.
During his visit, the monarch also discussed expansion projects in Makkah and said that the move comes to respect "the commandments of [former] King Abdullah." He tasked Prince Khalid to follow up and prioritize all projects in Makkah.