Saudis elect first woman councillor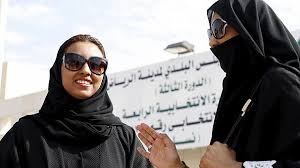 The Saudi municipal election results sprung a surprise on Sunday with 19 women, out of a total of 2,106 candidates, emerging victorious and defying the general expectations of people across the Kingdom that fewer of them would win.
Among the 19 glorious women were two in Qassim, two in Eastern Province, two in Al-Ahsa, one in Jazan, three in Riyadh, two in Jeddah, two in Hail, two in Tabuk, one in Al-Jouf, one in Madinah and one in Makkah.
Abdul Lateef Al-Asheikh, municipal and rural affairs minister, said that 702,542 citizens cast their votes, which was 47.4 percent of all registered voters. He said the elected members would form two-third of the municipal councils. The rest will be appointed by the minister.
Speaking to AFP, Khadra Al-Mubarak in Qatif, a winner, said: "I will be in contact with society, especially women, to deliver their voices and demands to the council. I promise I will represent them by all means."
Sahar Hassan Nasief, a campaigner in Jeddah, said: "Even if it was only one woman, we're really proud of that. Honestly, we weren't expecting anyone to win."
In the first announcement of a female winner, Salma bint Hizab Al-Otaibi was elected in Makkah city, SPA reported. Hanouf bint Mufrih bin Ayid Al-Hazmi won in Al-Jouf, SPA said, adding that neighboring Tabuk elected two women.
In the east, Sana Abdel Latif Hamam and Maasooma Abdel Mohsen Al-Rida were elected in Al-Ahsa province, SPA said. Winners came from the south as well, with one woman elected in Jazan region, while two others including Lama Al-Suleiman will join councils in Jeddah, poll officials told SPA.
According to Judea Al-Qahtani, spokesman of the General Committee for Municipal Elections, female voters represented 42 percent of the total votes, though women's participation as voters or candidates was the first of its kind in the history of the Kingdom.
A total of 235 candidates, including nine women, were disqualified for violations of regulations. A fine of SR50,000 was imposed on disqualified candidates.
According to election commission data, nearly 1.5 million people aged 18 and above signed up for the polls.