Sayed Chowdhury gets 'Business Achievement Award'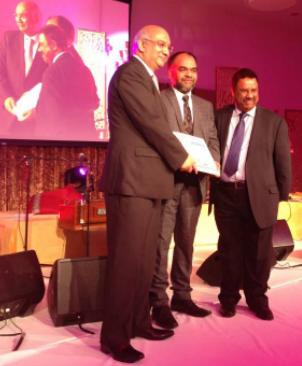 Sayed Chowdhury, Managing Director of Excelsior Sylhet hotel & resort, has received the prestigious 'Business Achievement Award' from Rt Hon Keith Vaz MP, Chair of the Home Affairs Select Committee, UK in a ceremony at London Heathrow Hilton held on Sunday 21, December 2014
The inaugural Curry Life Business Achievement Awards recognize the very best achievements of individuals and companies across 21 categories from the region's most economically-important sectors, including Tourism, Real estate and Curry Industry. The award ceremony was attended by senior executives and decision makers across many sectors in the economy.
Recipient Sayed Chowdhury said, ''I feel very honoured to receive this prestigious Curry Life Business Achievement Award and grateful to the awarding body for nominating me. This achievement is the result of the sacrifice and support from my wife and family to whom I owe my heartfelt gratitude. They have been the main strength to my success story to date with Media Mohol, United Airways and now Excelsior Sylhet.
For establishing Excelsior Sylhet, a five star hotel and resort, I thank my investors and colleagues, especially project chairman Shah Jamal and director of marketing Ahmed Ali, as well as my friends, media and community leaders, without them this will not have been successful.
I would like to invite you all to visit Excelsior Sylhet the first eco-park based hotel & resort in Bangladesh that sits on 17acres of land of natural beauty, with 50 thousand trees of 400 varieties, a forest with friendly animals such as birds, deer's and monkeys. I am sure you will also enjoy the luxurious facilities and exquisite foods of Excelsior. I hope to see you there soon.
Lastly I would like to specially thank senior journalist Syed Nahas Pasha & Syed Belal whom I have known closely for many years and have recognised my achievement.''
Personal profile: Sayed Chowdhury is a renowned journalist, novelist and a successful entrepreneur. Mr Chowdhury is Managing Director of Excelsior Sylhet hotel & resort. He is also Founder Director of United Airways, which is successfully operating flights to Jeddah, Dubai, Muscat, Katmandu, Kuala Lumpur, Bangkok and Kolkata along with all domestic routes of Bangladesh.
Sayed Chowdhury, Managing Director of Media Mohol Ltd, is the Editor of Shomoy24, weekly EuroBangla and UK Bangla Directory (Britain's first one-stop guide to Bangladeshi businesses, first published in 2003), UK Asian Restaurant Directory (Britain's first Asian restaurant directory, published in 2007) and Muslim Index (The essential directory for the Muslim World, published in 2010). He edited several magazines such as Durbar, Sylhet Guide and Shuniket.
In 1990, Sayed Chowdhury was nominated as a member of the Executive Committee of Sylhet Press Club. He was elected twice in the Committee (1993-94, 1995-96)  and nominated an Executive Member of London Bangla Press Club and Press Secretary of BJA.
Sayed Chowdhury was Organising Secretary of Osmani International Airport Formation Movement and played an important networking role in the formation of Sylhet Division.
Sayed Chowdhury is the Founder Rector and Director of British Bangladesh International School (BBIS). He is Director of Westpoint School & College.
BBC television featured a special interview of Sayed Chowdhury on 5 August 1998 by renowned journalist Francis Harrison regarding his dream and vision along with the prospect of English medium education in Sylhet. BBC radio also aired Sayed Chowdhury's interview on 28 November 1999 on the development of Sylhet. In 2004 BBC journalist visited Media Mohol and interviewed Sayed Chowdhury again for his publications. Mr Chowdhury has also presented and  appeared on Bangla TV, Channel S ATN, NTV, Channel I, Channel 9, as well as MCR and Betar Bangla.
Sayed Chowdhury has received awards from different institutions, organizations and local authorities for his contribution to society and achievement in his career and life. His awards include Mayor Awards of Tower Hamlets Council of Great Britain and many more. He is among the few who have been included in the eight edition of the International Directory of Distinguished Leadership by the American Biographical Institute, Inc.
Sayed Chowdhury was born in Noagaon village of Hatkhola Union Parishad under Sylhet Sadar. His father Dr M M Serajul Islam Chowdhury was an eminent social and religious personality in Bangladesh and mother Begum Kamrunnessa was a social worker. His wife Afia Chowdhury is an accountant. He is a proud father of two sons Imthiaz Chowdhury and Rayyan Chowdhury.