Scotland declares online 'independence'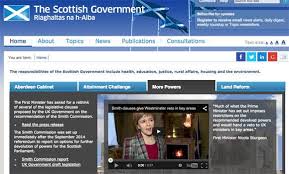 Five months after Scotland voted against independence from the rest of the United Kingdom, the Scottish government has seceded — at least online.
The devolved government in Edinburgh has replaced its old domain name gov.uk, which is also used by British ministries in London, with the newly introduced .scot.
The main website for the government is now www.gov.scot, rather than www.scotland.gov.uk — although that link will continue to work for the forseeable future.
"Using the .scot domain as our primary web address will be a visible symbol of the Scottish government's online presence and our involvement with the worldwide family of Scots who choose to express their identity or affinity online," said Deputy First Minister John Swinney.
The .scot domain name was introduced in September and so far has more than 8,000 incarnations, according to the government. It is run by a not-for-profit registry.
Former Scottish first minister Alex Salmond, who led the campaign for independence in September's referendum, has long advocated a separate Scottish domain name.
He said it would create an "online community defined by a shared commitment to Scottish identity, culture and economic promotion."
Salmond stepped down as first minister and leader of the Scottish National Party after the referendum defeat, in which 55 percent of voters chose to stay in the UK.