Scotland rejects independence with 'No' vote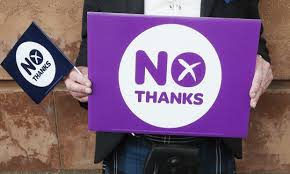 Scotland spurned independence in a historic referendum that threatened to rip the United Kingdom apart, sow financial turmoil and diminish Britain's remaining global clout.
A vote for the 307-year union is a relief for millions of Britons including Prime Minister David Cameron, whose job was on the line, as well as allies across the world who were horrified at the prospect of the United Kingdom's separation.
With 31 of 32 constituencies declared, unionists had won 55 percent of the vote while separatists were on 45 percent.
Unionists cheered, kissed and drank wine at a party in Glasgow while nationalist leader Alex Salmond conceded defeat in front of an image of a giant white on blue Scottish flag in Edinburgh.
"Scotland has by a majority decided not, at this stage, to become an independent country. I accept that verdict of the people and I call on all of Scotland to follow suit in accepting the democratic verdict of the people of Scotland," Salmond said.
Salmond laced his defeat with a warning to British politicians in London that they must respect their last minute promise of more powers for Scotland.
"Scotland will expect these to be honoured in rapid course," he said before walking off the stage.
Sterling strengthened sharply against the dollar and the euro while share prices looked set to open higher in a relief rally.
The campaign for independence had galvanised this country of 5.3 million but also divided friends and families from the remote Scottish islands of the Atlantic to the tough city estates of Glasgow.
Though the nationalists won Scotland's biggest city, Glasgow, they failed to live up to opinion poll surveys before the vote which forecast that the United Kingdom's fate was balanced on a knife edge.
Polls showing a surge in separatist support over the past two weeks prompted Britain to promise more powers to Scotland, a step that has angered some English lawmakers in Westminster.
"We have chosen unity over division, and positive change rather than needless separation," Alistair Darling, head of the "Better Together" campaign and a former British finance minister.