Scotland's referendum campaign begins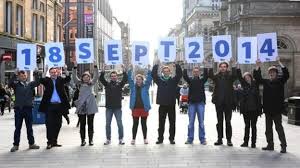 The campaign for Scotland's independence referendum has started amid discussions over benefits and costs of breaking away from the United Kingdom.
The campaign will last for 16 weeks before the beginning of referendum, which is due to be held on September 18.
Four million eligible voters will be asked a Yes/No question, "Should Scotland be an independent country?"
According to reports, although the No campaign is leading in the contest, supporters of independence believe they can change public thoughts in their favor before the decision day.
Much of the campaign has so far focused on the economy and the benefits of an independent Scotland compared to the cost of leaving the UK.
Political analysts believe that independence of Scotland would boost the country's economy.
Scottish First Minister Alex Salmond said on Wednesday that the event could generate more than £5 billion a year of extra revenues in 15 years' time without raising taxes.
The Scottish government also said independence would let the government generate stronger economic growth by imposing a number of measures, including focusing spending on childcare and education, and cutting taxation on company profits and airfares. It also expects to collect large tax revenues from its share of Britain's North Sea oil and gas output.
The main political parties in London reject Scottish independence. They united in February to oppose sharing the pound should Scotland choose to leave the UK.