Scottish separatist leader eyes new election victory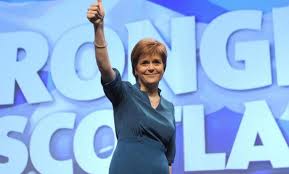 Scottish National Party leader Nicola Sturgeon on Thursday set her sights on victory in regional elections next year but played down the prospect of a new independence referendum in the near future.
Sturgeon, who is also Scotland's First Minister, said there should be "respect" for the result of last year's referendum in which Scots voted 55 percent to 45 percent in favor of remaining in the United Kingdom.
Speaking to delegates at the start of the party's annual conference, she added: "Over the next few years… I think that support for independence will continue to rise."
"If there is strong and consistent evidence that people have changed their minds… then we have no right to rule out a referendum," the 45-year-old said.
"I believe with all my heart that Scotland should be an independent country," said Sturgeon, who has negotiated sweeping autonomous powers for her nation.
Boosted by an electoral triumph and a membership boom, SNP members will be meeting in the northeastern Scottish city of Aberdeen until Saturday.
Sturgeon said on Thursday that the party's membership had more than quadrupled from 25,000 before last year's referendum to 114,121 now.
She also launched a broadside against Jeremy Corbyn, the new hard-left leader of the opposition Labour Party who is seen by some observers as a potential threat to the SNP's stronghold in Scotland.
"Labour is unreliable, unelectable and unable to stand up to the Tories," Sturgeon said, adding that there was now "only one united opposition" in Westminster — the SNP.
Sturgeon said the conference will be the "launch pad" for the SNP campaign for elections in the Scottish regional parliament in May next year.
The SNP aims to increase its absolute majority in the election and fight off any potential resurgence of Labour, which used to dominate in Scotland.
It has already grown to be a national opposition party, after taking 56 out of Scotland's 59 seats in the Westminster parliament in this year's general election in which voters elected a Conservative majority government and routed the Labour party.
Another impending milestone is Britain's own referendum on whether or not it wants to remain part of the European Union, which the Conservative Prime Minister David Cameron plans to hold before 2017.
Support for the EU is traditionally stronger in Scotland, and if the country was taken out of the 28-member bloc due to euroskeptic English voters there would be a "groundswell of anger" in Scotland, Sturgeon has warned.
As well as the coming EU referendum, the conference will address environmental issues and social concerns, under the banner "Fairer Scotland."
The SNP has positioned itself as a strong opposition against Cameron's austerity program.