Several killed in British motorway crash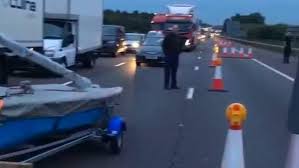 Several people died when two lorries and a minibus collided on Britain's main north-south motorway early on Saturday at the start of a busy bank holiday weekend, police said.
Four others were injured in the collision just before 3.15am. (0230 GMT) in the southbound lane of the M1 motorway, near the English town of Newport Pagnell, 50 miles (80 km) northwest of London, the force added.
Two men have been arrested on suspicion of causing death by dangerous driving and are being held in custody, Thames Valley police said in a statement.
The minibus was believed to have travelled from the Nottingham area, police said.
"We would ask all motorists to please avoid the area, use alternative routes and await further updates before attempting to travel on this route," Chief Inspector Henry Parsons said.