Several killed in California bar shooting
It was the second mass shooting in America in less than two weeks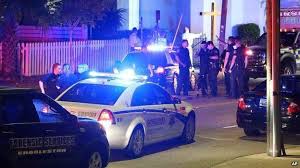 A gunman killed 12 people, including a police officer, when he opened fire in a country music bar packed with college students in California, officials and witnesses said Thursday.
Police said the gunman was found dead inside the bar on the outskirts of Los Angeles although it was not immediately clear if he was killed by officers or shot himself.
Speaking at press conference in the wee hours of Thursday, a sheriff said that around a dozen other people had been injured. He said the motive of the shooting and the identity of the shooter were not known.
It was the second mass shooting in America in less than two weeks.
Witnesses said that the gunman, who was wearing a black trenchcoat, throw several smoke grenades inside the Borderline Bar and Grill before he started he shooting at around 11:20pm on Wednesday night.
"It's a horrific scene in there. There is blood everywhere," Ventura County Sheriff Geoff Dean told reporters.
"We have no idea if there is a terror link to this or not. As you know, these are ongoing investigations and that information will come out as soon as we are able to determine exactly who the suspect was and what motive he might have had for this horrific event."