Shaikh Mohammed receives Chairman of Thomson Reuters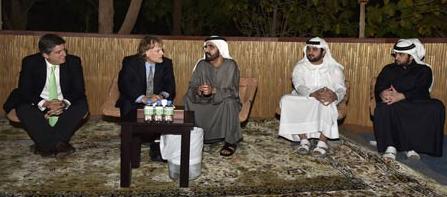 His Highness Shaikh Mohammed bin Rashid Al Maktoum, Vice-President and Prime Minister of the UAE and Ruler of Dubai, received David Thomson, Chairman of Thomson Reuters in presence of Shaikh Maktoum bin Mohammed bin Rashid Al Maktoum, Deputy Ruler of Dubai.
The meeting touched on relations between the government of UAE and Thomson Reuters and ways to boost cooperation and exchange of expertise.
Shaikh Mohammed stressed the important role of media in building bridges of communication and interaction among different cultures of the world and in serving world peace and instilling peaceful co-existence among the mankind.
He welcomed the media organisations that took Dubai as a regional base for their operations and referred to the freedom of expression granted to the local and international media in the UAE.
David Thomson thanked Shaikh Mohammed for the cooperation and facilities offered to Thomson Reuter's regional office in Dubai which employs more than 350 people from different nationalities.
He revealed plans to expand the office staff to cover different activities in Dubai and the UAE.
He also said Thomson Reuters was looking forward to develop investment projects with the government and media sectors in Dubai, in the light of Dubai becoming the capital of Islamic economy.
Present during the meeting were Shaikh Ahmed bin Mohammed bin Rashid Al Maktoum, Chairman of Mohammed bin Rashid Al Maktoum Foundation, Mohammed bin Abdullah Al Gargawi, Minister for Cabinet Affairs, Mohammed Ibrahim Al Shaibani, Director of Dubai Ruler's Court, Lt. general Musabah Rashid Al Fattan, Director General of Dubai Ruler's Office, Khalifa Saeed Sulaiman, Director general of Dubai Protocol and Hospitality Department, Mona Ghanim Al Marri, Director general of Dubai Government Media Office and a number of Thomson Reuters officials.