Smart bracelets during Haj for quick emergency response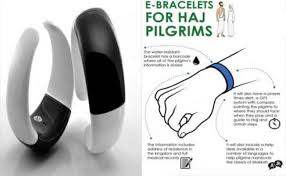 Fouzia Khan: The Saudi Red Crescent Authority (SRCA) is introducing electronic smart bracelets during Haj this year that contain all the vital information of the pilgrims to face any emergency, according to Dr. Saleh bin Hamad Al-Suhaibani, secretary-general of the Organization of Arab Red Crescent and Red Cross.
Speaking to Arab News, Al-Suhaibani said the smart bracelet is the latest gadget for rapid response and will contain all the information about the medical history and medical requirements of pilgrims, which will help in saving lives in any situation.
The smart bracelet will contain a special bar-code that operates with smartphones and computers offline and online. He said rapid response entities would immediately be able to access the information on these bracelets and implement it in saving their lives, if so required.
Al-Suhaibani explained that besides pilgrims, these smart bracelets can also be used by the Ministry of Health for hospital inpatients. The Ministry of Labor and Social Development will find it handy for workers and employees with the medical information; and the international organizations for refugees and displaced people, for humanitarian operations in general.
This technology is the latest projects of cooperation and a joint program of Red Crescent and the Saudi Skop group.
The Ministry of Haj announced this year the launch of the e-bracelet that stores the personal information of each pilgrim including where the person entered the Kingdom, visa number, passport number and address.
The device also includes data on pilgrims' licensed service providers, accommodations in Makkah, Madinah or the holy sites, and the telephone numbers of those helping them.
Earlier, the SRCA participated in a workshop organized by the ministry of Health titled, ""Crisis management and strategic planning," to combat any type of crisis during this year's Haj.
The officials from the Saudi Red Crescent participated in the workshop and reviewed strategic plans and procedures for crisis management.
The workshop was held in the presence of a number of officials from the Ministry of Health, heads of Haj committees, and with the participation of specialists from Bournemouth University in the United Kingdom.