Snow, rain lash Syria refugees in Lebanon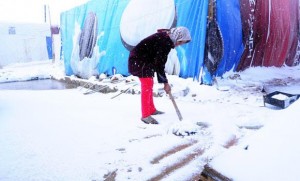 Thousands of Syrian refugees living in makeshift camps in Lebanon were weathering a winter storm on Wednesday that brought snow, rain and freezing temperatures to the country.
In northern Arsal, just across the border from Syria, layers of snow sat atop flimsy shelters housing tens of thousands of recently arrived refugees.
The UN refugee agency UNHCR has worked around the clock, partnering in recent days with the Lebanese army, to distribute winter supplies including thermal blankets and money for heaters.
But despite the efforts, UNHCR spokeswomen Lisa Abou Khaled said there were concerns for thousands of people living in more than 200 informal camps in central and north Lebanon.
"We are worried, because it is really cold in the Bekaa region, and we're extremely worried about the refugees living in makeshift shelters, because many are really substandard," she said.
Abou Khaled said UNHCR had prepared stockpiles of items including plastic sheeting, floor mats, blankets and mattresses to help refugees whose shelters might be flooded or destroyed by the storm.
She said winter supplies had also been handed out to local municipalities, so they could quickly respond to emergency needs.