South Africa's President Zuma resigns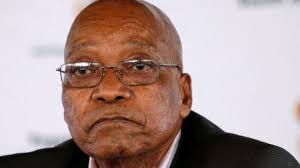 South African President Jacob Zuma resigned on Wednesday as the ruling ANC party finally turned against him after nine years of corruption scandals, economic slowdown and falling popularity.
Zuma railed against the African National Congress (ANC) for "recalling" him from office and threatening to oust him via a parliament no-confidence vote due on Thursday.
In a 30-minute national television address, Zuma said he had "come to the decision to resign as president of the republic with immediate effect."
Zuma has been in a power struggle with multi-millionaire former businessman Cyril Ramaphosa, the deputy president who now becomes interim president.
Ramaphosa, who won control of the ANC when he was elected as its head in December, is set to be voted in by lawmakers as South Africa's new president on Thursday or Friday.
Zuma, whose reputation has been stained by years-long allegations of graft, complained that the ANC party had never explained to him why he had to leave office.
In an earlier TV interview on Wednesday he said he had received "very unfair" treatment from the party he joined in 1959 and in which he had fought for decades against apartheid white-minority rule.
He said he was angered over "the manner in which the decision is being implemented… I don't agree as there is no evidence of if I have done anything wrong."
The party's national executive committee ordered his recall from office on Tuesday, after a 13-hour meeting at a hotel outside Pretoria.