South Asia tagged world's most corrupt region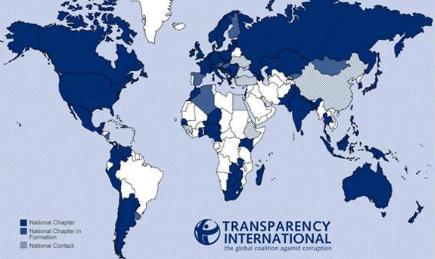 South Asia is the most corrupt region of the world and governments must strengthen their anti-graft agencies to prevent political interference and protect whistleblowers, Transparency International said Wednesday.
The watchdog group found serious problems with anti-corruption efforts in Bangladesh, India, Maldives, Nepal, Pakistan and Sri Lanka.
"South Asia now is the worst region in the world when it comes to corruption based on our studies," said Srirak Plipat, the group's regional director for Asia Pacific.
All six countries have public bodies charged with stopping corruption, but "their hands are tied by political control over the staff appointments and budget," the group said in a report.
"The lack of political will on the part of the governments to make laws work means that government action to fight corruption is largely ineffective," the report added.
The group urged the governments of the six countries to strengthen their anti-corruption agencies and judiciary by ensuring that appointments, transfers and removal of the heads of the agencies are conducted independently.
The report also said that political interference means that the agencies are selective in conducting investigations, and in most of South Asia are powerless because they need government approval before starting a probe.
In Nepal in 2013 the chief justice of the Supreme Court was appointed prime minister, which Transparency International said blurred the line between executive and judicial powers. Khil Raj Regmi did not resign from his judicial position, although he stopped hearing cases. In Bangladesh, the government has appointed 48 judges to the Supreme Court since 2009.
Pakistan is discussing a right to information law but in Sri Lanka this is non-existent, the report said.
It said India has been making attempts to dilute its right to information law, which currently is one of the strongest in the world.
Plipat said Transparency International will monitor India's newly elected government to see if it follows its promise of cleaning up graft.
He said the Indian government should implement an Ombudsman Act that was passed by Parliament last year and also push other anti-corruption bills, including amending whistleblower laws to protect people in the private sector.