Steep hike in prices of Umrah packages from Riyadh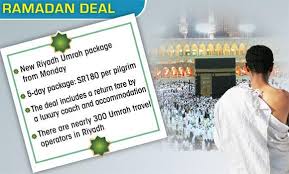 Travel operators have raised the rate of Riyadh's Umrah package to SR180 from the current SR90 per pilgrim for the Ramadan season.
The five-day package, which would cover the holy cities of Makkah and Madinah, will commence on Monday, they said.
This year, the peak season coincides with the summer holidays and a large number of vacationers, including Saudis, are expected for Umrah.
The package includes a return fare by a luxury coach and accommodation. An additional SR50 will be charged if the pilgrim wants to stay in a star hotel.
The pilgrimage will cover Madinah and Makkah, but those wishing to go only to Makkah from Riyadh and back, can do so. However, the cost will be the same, that is SR180, the operators said.
A travel operator said the weekend package to Makkah and Madinah starts from Riyadh at 4 p.m. on Wednesday and Thursday and ends on Friday and Saturday midnight respectively. "Each family will get a large room while a bachelor will share a room with three pilgrims. Children aged under 12 years will be charged half the fare."
Another travel agent said a five-day package to Makkah and Madinah, including travel and accommodation, will cost a pilgrim SR250 for a two- day stay in a three-star hotel in Madinah and another two-day lodging in a similar hotel in Makkah. The journey begins on Monday and ends on Friday. The pilgrims would leave Makkah after Juma prayers so that they reach Riyadh around midnight. Pilgrims are given an option to choose a five-star facility for an additional payment .
There are nearly 300 Umrah travel operators in the capital, but they are largely concentrated in the city center of Batha.
During the journey, coaches stop over at three points, for Magrib and Isha prayers and dinner, and at Meeqat in Taif for allowing the pilgrims to wear the ihram.
The local hotels in Madinah in liaison with tour operators have arranged tours to historical sites for those pilgrims who come to Madinah to visit the Prophet's Mosque.
The places of interests in Madinah include Quba Mosque — the first mosque built by the Holy Prophet, Qiblatain Mosque where the Qibla was shifted from Baitul Muqadas (Al-Aqsa Mosque) to Holy Kaaba when the Prophet (peace be upon him) was conducting prayers and the graveyard on the foothills of Mount Uhud where Islamic fighters were martyred in the battle were buried.
The Meeqat points include Dhu'l-Hulayfah (9km from Madinah), Juhfah (190km to the northwest of Makkah), Qarn Al-Manazil (90km) to the east of Makkah, Dhat Irq (85km toward the northeast side of Makkah) and Yalamlam (50km to the southeast of Makkah).