Students continue protests for sixth day in Bangladesh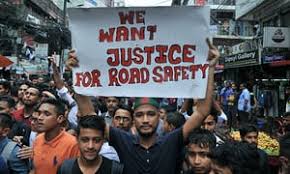 Student protesters have returned to the streets in parts of Dhaka for the sixth straight day demanding safe roads although the government agreed to accept their demands and urged them to go back to classrooms.
Authorities have pleaded with students to call off the protests that have near-paralysed Dhaka and spread beyond the capital, with vehicles vandalised and clashes with police in some parts.
The demonstrators, mostly students in their mid-teens, chanted "we want justice" on Thursday as they defied pouring rain to march in Dhaka for another day, bringing traffic to a standstill.
The education ministry shut down high schools Thursday in an effort to quell unrest, promising students their demands for reforms to road safety would be considered.
But anger has not subdued since a bus racing for passengers killed a boy and a girl on the roadside on Sunday, igniting the protests.
Protesters are blaming the government for failing to enforce traffic laws, and an insensitive comment by Shajahan Khan, a government minister with ties to powerful transport unions, triggered fresh outrage.
Khan questioned why there was such an uproar over the two Dhaka children but no reaction when 33 people were killed in an Indian bus crash the day before.
There have been widespread social media demands for his resignation even though the minister later apologised.
Authorities say more than 300 vehicles have been vandalised since the protests started.
Home Minister Asaduzzaman Khan on Wednesday promised that the government would launch a public transport safety campaign and urged the protesters to go home.
"People are suffering and we don't want this," he said.
According to the National Committee to Protect Shipping, Roads and Railways, a private research group, more than 4,200 pedestrians were killed in road accidents last year, a 25 percent increase from 2016.