'Sylhet Mirror' will enrich history of journalism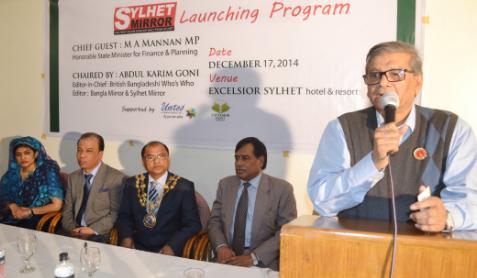 State Minister for Finance and Planning M A Mannan said, whenever Awami league comes to power, a wide range of development occurs. Awami league is working relentlessly to keep democratic practice uninterrupted.
State minister for finance and planning said this while he was addressing the inaugural program of first English online daily 'Sylhet Mirror' from Sylhet held at Excelsior Sylhet hotel and resort in Khadimpara of the Sylhet City on Wednesday.
He hoped that Sylhet Mirror will enrich the history of journalism of Sylhet. Mentioning some irregularities about online journalism, he said, govt. is actively considering to enact regulations for online newspapers.
Chaired by Abdul Karim Goni, Editor of Bangla Mirror and Sylhet Mirror and Editor-in-Chief  of British Bangladeshi Who's Who, the program was addressed by Mina Rahman, possible candidate of Conservative Party from Barking area of the UK, Abdul Mukit Chunnu MBE, Speaker of  Tower Hamlets Council and Captain Khurshid Alam, Director (Finance), United Airways as special guest.
Besides, Muhammed Faizur Rahman, Editor, Daily Sylhet Sanglap, Md. Sirajul Islam, general secretary, Sylhet Press Club, Somorendra Biswas Somor, Ex-general Secretary, Sylhet Press Club, S.I Azad Ali, director, UK Bangladesh catalyst commerce and industries, poet and researcher Dinul Islam Babul, Misbah Jamal, presenter, Sunrise Radio, UK and Mojir Uddin, principal, Shahjalal Jamea Islamia School & College, Mirabazar, Spoke at the program.
Among others prominent businessman Akhtar Hussain Choudhury, Syed Sujat Ali, executive editor, Daily Kajirbazar, Aftab Uddin, staff reporter, Daily Naya Diganta, Muhammed Taj Uddin,  deputy chief reporter, Daily Sylheter Dak,  community leader Goyesur Rahman Choudhury, Vanuj Kanti Bhattacharja, asst. editor, Sylheter Dak, lecture poet Basit Ibne Habib, lecture poet Nazmul Ansari, M. Ahmed Ali, staff reporter, Daily Sylheter Dak, Advocate Kamal Tayeb, Jounalist Abu Taleb Murad, Enamul Haque Renu, bureau chief, Sylhet Mirror and Ahmed Selim, Sylhet correspondent Bangla TV attended the program.
Nizam Uddin Saleh, executive editor, Sylhet Mirror, delivered address of welcome in the beginning of the program.
Abdul Karim Goni, in his speech, said, Sylhet Mirror will play an important role to bridge the gap between Sylhet and UK. It aims to highlight the problems, hopes and aspirations of the people of Sylhet as well as expatriates living abroad.
The program was supported by Excelsior Sylhet Hotel and Resort and United Airways.