Syrian boy wins million-dirham prize in Dubai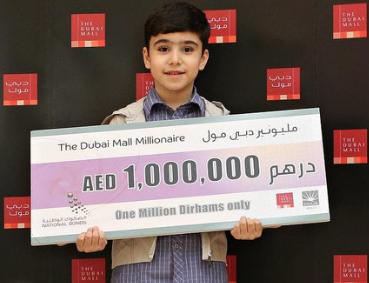 A Syrian boy became an instant millionaire after winning a raffle draw in Dubai held as part of a shopping campaign, a local newspaper reported Sunday.
Saif won a cheese worth 1 million dirhams ($ 272,260.7) during a competition at The Dubai Mall, an iconic entertainment destination in the city.
The 7-year-old boy is considered the youngest winner of this year's prize, according to Emirati newspaper The National. The million-dirham check was picked up by the boy's father at the mall.
The competition was held in January as part of the annual Dubai Shopping Festival, where shopaholics can check out the best deals and enjoy the month-long festivities.
The mall's lucky draw competition gives shoppers a chance to win 1 million dirhams in cash for every 300 dirhams spent.