Taj Accountants wins award for community service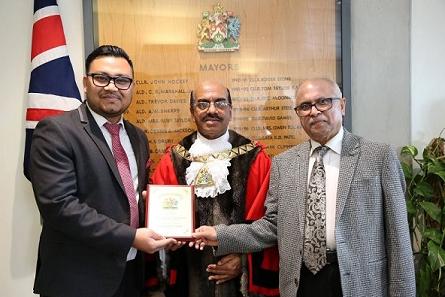 Abul Hyat Nurujjaman, Managing Director of Taj Accountants, has been given a special award in recognition of his service to the community and his contributions to community activities. The award was conferred on him by the Mayor of Brent Council, Cllr Mr Parvez Ahmed, on Wednesday, 22nd March in a short formal ceremony in the Mayor's parlour.
A number of community leaders, dignitaries and journalists from the print and electronic media attended the award ceremony. They included the Mayor of Brent, Council Cllr Mr Parvez Ahmed, the former president and senior advisor of the British Bangladesh Chamber of Commerce & Industry; the Editor of Bricklane: Bari to Basa, Professor Shahagir Bakth Faruq; the Leader of the Bangladeshi Caterers Association, Muhammad Nasir Uddin; Taraul Islam; Dalia Urbanaviciute; and prominent businessman Lucky Mia.
Handing over the award, Mayor Parvez Ahmed praised Mr Nurujjaman and said he was very happy to give this award to a virtuous person who works tirelessly for the community. The Mayor also described Abul as a hero hiding in the community: such heroes needed to be honoured to inspire them and the younger generation.
Mayor Parvez Ahmed said, "I hope this award will make him energetic, more hard working and will inspire him to virtuous go a long way forward. He wished Mr Nurujjaman success, health and a bright future.
Shahagor Bakth Faruk said, "Congratulations to A H Nurujjaman for his recognition towards the community. He deserves this recognition for the activities and responsibilities towards the community not only as a renowned accountant but discharging his corporate responsibilities through various organisation such as BBCCI, Sylhet Sadar Association and others. I thank Cllr Parvez Ahmed the Mayor of Brent for choosing the right person, Nurujjaman, to be honoured and rewarded with such a crest."
Bangladeshi Caterers Association Leader Mr Muhammed Nasir Uddin said, "The acccountant Mr Nurujjaman protects the rights of the community to the forefront of movements if any. I thank Mayor Parvez Ahmed for giving this award and recognition to a man with a very clean image.
Dalia Urbanaviciute also welcomed the award, saying, "Many congratulations to Mr Abul Hyat Nurujjaman and his team at Taj Accountants. I am extremely happy to attend this ceremony at Brent Council. The Mayor of Brent, Cllr Parvez Ahmed, has made a correct decision by giving this award to a young, hardworking and successful accountant and entrepreneur. Mr Abul's input in all aspects, from charities to supporting businesses in the local Bengali community and the mainstream, is remarkable. It's fascinating to read his interviews in newspapers like The Daily Star as an expert on taxation. This is something which should make the Bengali community proud of him. I wish Mr Abul all the best and I hope this is only the beginning of a very successful career."
After being presented with the award, Mr Nurujjaman was flooded with joy and expressed his feelings, saying, "This is a huge honour for me. I am proud to be nominated for an award from the Council." He also thanked Mayor Cllr Parvez Ahmed for choosing him to receive the award and said the award would, "inspire me to continue my career. It will also inspire me on my work in social service and community activities."
Along with his accountancy career, Mr Nurujjaman of Taj Accountnts is involved with a variety of services, including engaging himself in charitable activities. Last year, he and his team raised more than £60,000 for Syrian refugees as part of the Human Relief Foundation appeal. As part of the challenge to raise funds, he trekked more than 90km along the Great Wall of China.
Mr Nurujjaman is also involved with many other social and charitable organisations which seek to support humanity.  Well-known in the business community, he has attended many TV interviews as an invited guest, as well as featuring in a variety of well-known newspapers, such as The Daily Star, to advise and answer questions about taxation and small business.