Tamil Actress Monika Reverts to Islam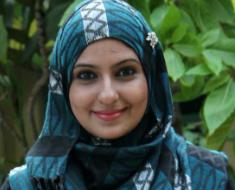 The popular Tamil film actress Monika who is known for her films like Azhagi and Silanthi has Reverted to Islam and her new name is M G Rahima. The actress has acted in more than 70 films as heroine and child artist.
Monika's parents are Christians and the actress says hereafter she won't be acting in films. Monika also says that there is no selfishness in her decision to Revert to Islam.
Monika started her career as a child artist in Avasara Police 100.
Tamil fans couldn't see her role in on screen for the years. She conducted press meet at RKV Studio where she said, "I was started my career in cinema from child artist, completed 70 films in Cinema Industry. I have done with your full support. The word thanks word is not enough for your affections".
She added, "I don't convert for the reason of love or money, am not such a person. I like Islam principles so that I converted as an Islam. I will intimate about my marriage to media once arranged by parents and I really thanks to my dad cause of his full support. I am not convinced to change my name but I have changed my name is M.G.Raheema (M – Maruthi Raj (father), G-Gracy (mother)). Hereafter I won't act in the film, it gives some pain but I don't change my mind"
The actress added that she was planning to tie the knot, soon. The actress has issued her new photographs in Islamic Abaya.
Monika is the latest to join the bandwagon of those who converted to Islam, before her the Oscar winner musician AR Rahman and popular musician Yuvan Shankar Raja had also embraced Islam.
Below is the video  of her press meet in which she declared about her decision to adopt  her new faith.