Telangana Muslim students selected for NASA conference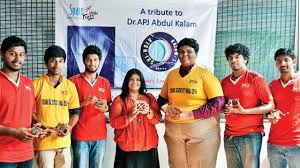 Six students of Telangana Minorities Residential Educational Institutions Society (TMREIS) have been selected to attend the 2018 National Aeronautics and Space Administration (NASA) International Space Development Conference to be held in the US.
The chair of Executive Committee of National Space Society have selected the students of government-run TMREIS schools for submission of "TMREIS Fusion L5" project.
This project was selected in association with Planetary Society of India and got an invitation from the National Space Society to attend the 2018 International Space Development Conference (ISDC) to be held from May 24 to May 27 at Los Angeles, California, according to a statement from the office of Telangana Chief Minister on Thursday.
Chief Minister K. Chandrasekhar Rao congratulated the team comprising Syed Ibrahim Ali, Mahaveen Mohammedi, Safa Maheen, Feroz Hussanin, Muskaan Tabassum and Feroz Ahmed, all students of Class 7, 8 and 9.