Tesco reports $8.5bn loss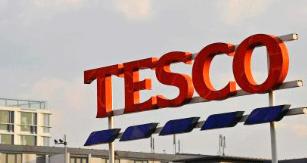 Tesco, Britain's biggest retailer, posted a record full-year loss of 5.7 billion pounds ($8.5 billion) Wednesday as deteriorating market conditions forced it to write down the value of supermarkets and other assets.
The loss marks another unfortunate milestone for Tesco, which has been dogged by an accounting scandal and a series of profit warnings that led to the departure of previous CEO Philip Clarke.
It also shows the impact of a brutal supermarket price war, as discount supermarket chains eat into the market share of a company that once dominated the market.
The company said Wednesday it took 7 billion pounds of one-time charges in the 12 months through February, including 4.7 billion pounds for the reduced value of fixed assets.
The net loss compares with net income of 974 million pounds in the previous year.
The results "reflect a deterioration in the market and, more significantly, an erosion of our competitiveness over recent years," CEO Dave Lewis said in a statement.
"We have faced into this reality, sought to draw a line under the past and begun to rebuild."
Revenue for the period fell 2 percent to 62.3 billion pounds.
"Lewis can only hope that Tesco's night is darkest just before dawn," said Paul Thomas, an analyst at Retail Remedy.
While the market is "still challenging," the company plans to cut costs, lower prices and improve relations with suppliers, Tesco said.
Tesco closed 43 unprofitable stores this month, has reduced costs by 250 million pounds and has identified an additional 150 million pounds of savings, the company said.
Tesco shares rose 0.6 percent to 236.2 pence in early trading on the London Stock Exchange.
The company said trading profit, which excludes property-related transactions, restructuring costs and other one-time items, fell 58 percent to 1.39 billion pounds, in line with market expectations.