'The Shape of Water' makes a splash at Oscars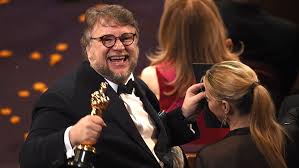 Fantasy romance "The Shape of Water" took home the best picture Oscar on Sunday, capping an awards season which has seen the film lavished with acclaim and glittering trophies.
The quirky love story challenges viewers to cheer for an unorthodox couple, embracing the themes of tolerance and acceptance.
"I want to tell you, everyone that is dreaming of using fantasy to tell the stories about the things that are real in the world today — you can do it," said Del Toro, who also took home the best director prize.
Del Toro also earned a Golden Globe and Directors Guild Award this season for helming the movie, which won four Oscars overall on Sunday — the other two were for best original score and best production design.
In the movie, Elisa (Sally Hawkins), who has been unable to talk since her throat was slashed as a baby, recruits her gay neighbor (Richard Jenkins) and colleague (Octavia Spencer) on a mission to break out the lab's amphibian prisoner, whose days are numbered.
Michael Shannon rounds out the cast in a scenery-chewing turn as the sadistic government employee responsible for the magical creature, which is also in the sights of Russian double agents who have infiltrated the facility.
"'The Shape of Water' finds Guillermo del Toro at his visually distinctive best — and matched by an emotionally absorbing story brought to life by a stellar Sally Hawkins performance," reads the critical consensus on reviews collation website Rotten Tomatoes, where it holds a 92 percent approval rating.