Theresa May survives confidence vote
May won the confidence vote with a majority of 83, with 63% of Conservative MPs backing her and 37% voting against her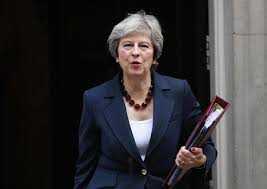 Prime Minister Theresa May on Wednesday survived a bid by her own MPs to unseat her, securing the support of 200 Conservative colleagues while 117 voted against her.
The British leader overcame the party no-confidence vote after it was triggered by hardline Brexit supporters who despise the deal she struck with the EU last month. It leaves May weakened but immune from a further internal challenge for a year.
Earlier, May had made a last-minute appeal for support from MPs and told them she will not lead the party into the next scheduled election in 2022.
According to BBC quoting party MPs, May said that she wants to stay on to deliver her Brexit deal.
The result means May can keep her positions as party leader and prime minister while continuing an uphill battle to win parliamentary approval for her Brexit plan.
Her victory means fellow Conservatives cannot challenge her for another year.
May could still face a challenge in Parliament if the opposition Labour Party seeks a confidence vote in the House of Commons over the EU divorce plan.
She plans to lobby European Union leaders for changes to the proposed divorce deal, which is unpopular with many lawmakers.