Theresa May takes over as British PM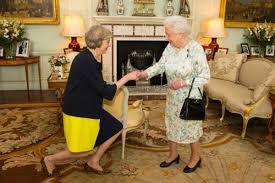 Theresa May took over as Britain's new prime minister on Wednesday, promising a "bold, new, positive role" for the country less than three weeks after its seismic vote to leave the EU.
May, the former interior minister who succeeds David Cameron after seeing off several rivals for leader of the Conservative Party, becomes Britain's second female leader after Margaret Thatcher.
After formally being invited to form a government in a meeting with Queen Elizabeth II at Buckingham Palace, May arrived at her new Downing Street residence with a promise to lead a government that would tackle "burning injustice."
"Following the referendum we face a time of great national change. And I know because we're Great Britain that we will rise to the challenge," she told reporters, flanked by her husband, Philip.
"As we leave the European Union we will forge a bold new positive role for ourselves in the world.
"And we will make Britain a country that works not for a privileged few but for everyone of us."
As Scotland mulls moves that could eventually see it break away, following the referendum in which most Scots voted to stay in the EU but England and Wales voted to leave, May said keeping the "precious" kingdom together was a priority.
She is expected to announce key members of her cabinet, including the foreign, interior and finance ministers, on Wednesday evening before getting down to business.
EU leaders are pressing for a swift divorce following the vote to leave the bloc on June 23, which sent shockwaves around the world and plunged Britain into uncertainty.
European Commission president Jean-Claude Juncker was among the first to offer his congratulations to May, and said he hoped they would meet "in the near future."
"The outcome of the United Kingdom's referendum has created a new situation which the United Kingdom and the European Union will have to address soon," he said.
May campaigned for Britain to remain in the EU but has stressed that she will honor the popular vote, saying repeatedly that "Brexit means Brexit."
However, she has refused to be rushed on the timetable.
Earlier, Cameron had made his final statement in Downing Street flanked by his wife Samantha and three children, where he wished Britain "continued success."
"It's not been an easy journey and, of course, we've not got every decision right but I do believe today our country is much stronger," the 49-year-old said.
He later made the short drive to the palace, where the queen accepted his resignation after six years in office.
Cameron had called the referendum and campaigned to stay in the EU in a bid to try to heal divisions in his Conservative party. He gambled, and he lost.
In his final question and answer session in the House of Commons on Wednesday, Cameron echoed a line he had once used to taunt former Labour premier Tony Blair.
"As I once said, I was the future, once," he said.
He urged his successor, "a brilliant negotiator," to "try to be as close to the European Union as we can be, for the benefits of trade, of co-operation and of security."
May campaigned for the leadership as a safe pair of hands, who has spent six years as home secretary, one of the toughest jobs in British politics.
The daughter of a Church of England pastor, she is cricket fan with a sober demeanour who lists her hobbies as cooking and walking.
She has been MP for Maidenhead, the well-to-do commuter town west of London, since 1997 and was previously chairman of the Conservative party.
May is something of an unknown quantity internationally, but European Council president Donald Tusk said he looked forward to a "fruitful working relationship" with her.
Her continental peers have said they expect her to move quickly to implement the referendum result.
Germany's Angela Merkel, France's Francois Hollande and Italy's Matteo Renzi announced Wednesday that they will hold a summit in August on the matter.
Women are expected to secure several top jobs in May's cabinet, including current energy minister Amber Rudd and international development minister Justine Greening.
Foreign Minister Philip Hammond and Brexit campaigner Chris Grayling, the leader of the House of Commons, are also tipped for senior positions — but George Osborne is expected to lose the finance portfolio.
Friends of former London mayor Boris Johnson, who had been hotly tipped to succeed Cameron but declined to run at the last minute, said he was also hoping to play a "significant role."
Investors will be watching May's first days in office closely.
The Bank of England will announce Thursday whether it will cut interest rates for the first time in more than seven years to curb economic fallout from Brexit.