Thousands protest over UK health service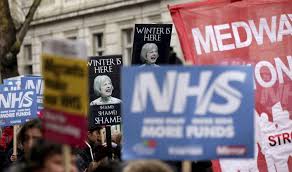 Thousands of people marched through central London on Saturday in support of the country's embattled National Health Service (NHS), which is straining under the weight of winter demand.
NHS staffing levels have been in crisis for months, an issue made worse by a winter flu outbreak.
The public health service is a highly-emotive political issue, and controversially formed the centre-piece of the succesful pro-Brexit campaign during the 2016 referendum.
Protesters carrying placards reading "NHS not for sale", and "Hands off our NHS", braved the cold and rain to demand that the government pump more money into the system, and roll back the influence of the private sector in the public-funded service.
Hospital campaigner Tamsyn Bacchus demonstrated with a life-size replica vulture and an NHS placard, fearing that the free-at-point-of-use service was moving towards a US style user-pay system.
"I have faith, and so do all these folk here, that it's so important… when your child is running a high fever, when you need the hospital or a doctor you can get them without worrying about having to pay for it," she told the Press Association.
There are 40,000 vacant nurse posts in England, according to the Royal College of Nursing, with 27 percent more nurses and midwives leaving the job between 2016 and 2017 than joining.
Numerous doctors have taken to social media in recent weeks to apologise to patients, with one emergency doctor in central England warning of "third-world conditions".
During the 2016 EU referendum, the Leave campaign's battlebus that carried leading figures such as Boris Johnson around the country was emblazoned with the disputed claim that the NHS could receive up to £350 million ($494 million, 397 million euros) extra per week if Britain no longer had to fund the EU.