Thousands sing national anthem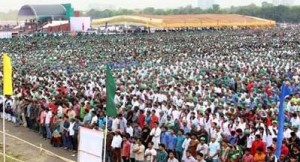 Over 2.5 lakh people sang the national anthem together in the capital on the Independence Day today to set a new world record. Mostly in red and green, people from all walks of life gathered at National Parade Ground to be a part of the event 'Lakho Konthe Sonar Bangla'.
At 11:20am, 'Amar Shonar Bangla, Ami Tomay Bhalobashi' chorus reverberated through the area.
Prime Minister Sheikh Hasina, accompanied by a large number of her cabinet colleagues, also sang in unison the national anthem.
The event is aimed at having Bangladesh's name in the Guinness Book of World Records.The event was open to everyone above the age of 13.
Though the programme was scheduled to begin at 11:00am, people without any prior registration started to throng the venue from as early as 6:30am.