Three illegal workers arrested in Aylesbury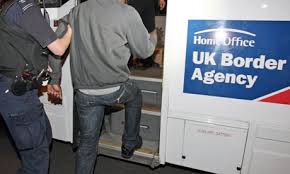 Three illegal workers have been arrested following operations by our officers in Aylesbury. Acting on intelligence, officers visited Chicken Cottage, on Cambridge Street and JFC Fast Food, on Kingsbury Square, both Aylesbury, on Tuesday 6 January. Individuals were questioned to check if they had the right to be in the UK.
At Chicken Cottage, which was visited at 12:30, they arrested a 26-year-old Pakistani man who had overstayed his visa.
Two further Pakistani men, aged 46 and 50, were arrested at JFC Fast Food, which was visited at 14:15. They too were found to have overstayed their visas.
The 2 arrested at JFC Fast Food were transferred to immigration detention pending removal from the country. The man found at Chicken Cottage was temporarily released and will have to report regularly to us while his case is considered.
The businesses were each served notices warning that civil penalties of up to £10,000 per illegal worker arrested will be imposed unless proof is provided that the correct right-to-work checks were carried out. This is a potential total of up to £20,000 for JFC Fast Food and up to £10,000 for Chicken Cottage.
Paul Smith, Thames Valley and Surrey immigration enforcement team, Home Office said:
'These arrests will act as a stark warning to anyone in Aylesbury who is in the UK illegally. We will catch up with you and you will face arrest, detention and removal from the country.
'Illegal working has a negative impact on communities. It defrauds the taxpayer, undercuts honest employers and cheats legitimate job seekers out of employment opportunities.
'We are happy to work with businesses to let them know what checks need to be made on staff, but those who break the law should know that they will face financial penalties.
'I would urge members of the public with information about suspected immigration abuse to get in touch.'
Employers unsure of the steps they need to take to avoid employing illegal workers can visit the preventing illegal working page on our website or call the Employers Helpline on 0300 123 4699.
Anyone with information about suspected immigration abuse can contact Crimestoppers on 0800 555 111 anonymously or visit the Crimestoppers website.