Three illegal workers caught in Downpatrick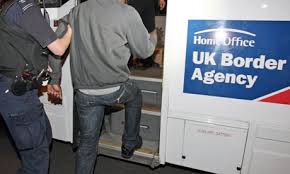 A Downpatrick restaurant faces a heavy potential financial penalty following an operation by our officers.
Acting on intelligence, officers visited the Passage To India at 18:00 on 30January 2014, and questioned staff to check if they had the right to be in the UK.
The restaurant, on St. Patrick's Avenue, was found to be employing 3 illegal workers.
Officers arrested a 55-year-old Bangladeshi man, who had entered the country illegally, and 2 further Bangladeshi men, aged 30 and 35, who had overstayed their visas.
All 3 are currently in detention while steps are taken to remove them from the country.
The Passage To India was served with a notice warning that a civil penalty of up to £10,000 for each illegal worker found will be imposed unless proof is provided that the correct right-to-work checks were carried out. This is a potential total of £30,000.
Assistant Director Mike Golden, from the Home Office's Northern Ireland immigration enforcement team, said:
'We are working hard to track down people breaking the UK's immigration laws and carry out regular operations across Northern Ireland.
'Illegal working is not a victimless crime. It defrauds the taxpayer, undercuts honest employers and cheats legitimate job seekers out of employment opportunities.
'Information from the public can be a huge help in our work and I would urge members of the public with information about suspected immigration abuse to get in touch.'
Employers unsure of the steps they need to take to avoid employing illegal workers can visit the preventing illegal working page on our website or call the Employers Helpline on 0300 123 4699.
Anyone with information about suspected immigration abuse can contact Crimestoppers on 0800 555 111 anonymously or visit the Crimestoppers website.