Tigers fetch a thumping win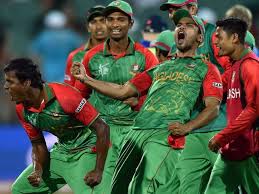 Bangaldesh put the best ever total against India in the first match and the courageous pace attack from the Tigers did not let the Indians come near the target of 308 runs. The visitors were all out for 228 in 46 overs.
Shekhar Dhawan and Virat Kohli were both caught behind by Mushfiqur Rahim from brilliant balls by Taskin Ahmed. Dhawan's wicket in the last ball of the 15th over by Tasin was the breakthrough for Bangladesh.
India was sailing smoothly in the first 15 overs. Then the fall of Virat Kohli and Dhawan acted like a domino as the Indian batsmen could not fight against the dominating pace attack of the Bangladeshi side.
Rohit Sharma was caught out by Mashrafe from a ball by debutante Mustafizur Rahman. Ajinkya Rahane was caught behind from his ball as well.
MS Dhoni was caought behind by Mushfiqur by Shakib's ball. Later Mustafizur striked again by knocking out the stumps of Suresh Raina. Ashwin and Rabindra Jadeja was also caught behind by Mushfiqur from a ball by the debutante pacer in the Tiger's side.
India got their hundred in the 17th over of the match.
A rapid 102-run opening partnership between Tamim Iqbal and Soumya Sarkar formed the centerpiece of Bangladesh's 307, their highest total against India in ODIs.
The hosts lost four wickets either side of a rain break and endured a middle-order meltdown, but Shakib Al Hasan's fifty coupled with late contributions from Nasir Hossain and Mashrafe Mortza hauled Bangladesh to their second 300-plus score in four games.
In rare sunlight after some bleak weather, Tamim and Sarkar set to work immediately after Mushfiqur Rahim chose to bat, launching a relentless onslaught on the Indian bowlers. Bangladesh soared past 100 off only 79 balls; their fastest against a top-eight team. Tamim raced down the track to the fifth ball of the match, and though he inside-edged it towards fine leg, he had signaled Bangladesh's intent. They weren't going to hold back.
Bangladesh got a total of 307 runs in the electrifying 50 overs that the Tigers faced throughout the match. Shakib Al Hasan and Sabbir Rahman put up a good fight in mid overs that helped Bangladesh to get the 300+ score.
Ashwin took three quick wickets after the play resumed. Then Shakib and Sabbir put the team on a steady pace.
Shakib Al Hasan was later caught in the deep mid-off by Yadav in the 43rd over. Mushfiqur Rahim was caught out from a ball by Ashwin at the 23rd over. Sabbir Rahman was bowled out by Jadeja. Rubel Hossain and Nasir Hossain's wicket was lost in quick successions.
Mashrafe Bin Mortaza was in the crease till the 4th ball of the last over, when he was caught by a ball from MM Sharma. Mashrafe got 21 from 18 balls.
The players went off the field as the drizzle was looking a lot heavier now as fans take cover under umbrellas.
Tamim scored his fifty with a boundary. He gets there off 50 balls and keeps Bangladesh's charge afloat.
Just before that, India's Suresh Raina sent back Soumya Sarkar with a quick piece of fielding. India needed a moment of brilliance to break this stand and Raina provided just that. A bit of hesitation and yes-no situation between the two set batsmen and Raina grabs the opportunity, pounces on the ball and unleashes a direct hit to send Sarkar packing on 54. He smashed eight fours and a towering six during his brisk innings.
Earlier Mashrafe Mortaza won toss and decided to bat first in the first game of the 3-match ODI series against India at Mirpur Stadium.
Bangladesh got 307 losing all wickets in the last over.