Top 10 influential Bangladeshis in world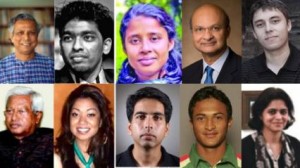 A list of top 10 inspirational Bangladeshis around the world has been published at the British Parliament Commonwealth Room on Tuesday.
Nobel laureate and Grameen Bank founder Dr Muhammad Yunus topped the list.
London-based organisation British Bangladeshi Power and Inspiration has published the list.
Among others, the list also includes YouTube's founder Jawed Karim, Brac's founder Sir Fazle Hassan Abed, Founder of Khan Academy Salman Khan, Jaago Foundation's Korvi Rakshand, lawyer Sara Hossain, cricketer Shakib al Hassan, CEO of Medtronic Omar Ishrak, Sumaya Kazi and Everest climber Nishat Mazumder.
The list of the inspirational Bangladeshis is given below:
1. Mohammed Yunus [Founder of Grameen Bank and Nobel laureate]
Muhammad Yunus is a Nobel Prize-winning economist who pioneered microfinancing in Bangladesh. He founded the Grameen Bank, with which he shared the 2006 Nobel Peace Prize "for their efforts to create economic and social development".
2. Jawed Karim [Founder of YouTube]
Karim is a co-founder of YouTube. Karim may have taken a back seat from the limelight but when YouTube was acquired by Google in 2007, Karim's payoff was an estimated $65m.
3. Sir Fazle Hasan Abed [Founder & Chairperson Brac]
Sir Fazle established BRAC with the primary objectives of alleviating poverty and empowering the poor. Under his leadership, in the span of only four decades, BRAC has grown to become one of the largest and most diverse development organisations in the world.
4. Salman Khan [Khan Academy]
Salman, a graduate of MIT and Harvard Business School, has been listed as one of Time Magazine's 100 most influential people in the world. He is the founder of the Khan Academy, a non-profit educational website which is now the largest virtual 'school' in the world with over 10 million students.
5. Korvi Rakshand [Founder of Jaago Foundation]
Korvi was listed in the "Top 99 under 33 Influential Foreign Policy Leaders" by The Diplomatic Courier, in Washington D.C. He has engaged 10,000 volunteers to work with Jaago on tackling issues from illiteracy, malnutrition in children to helping families build better lives.
6. Sara Hossain, Esq [High Court Lawyer and Human Rights Activist, the Supreme Court of Bangladesh]
A practicing barrister in the Supreme Court of Bangladesh, Sara is a vocal campaigner against human rights violations. Sara has represented, amongst others, slum dwellers seeking protection against forced evictions, women in protective custody, and journalists facing contempt of court prosecutions for reporting on judicial corruption.
7. Shakib Al Hassan [Bangladesh cricket player]
Shakib is unarguably the best cricketer in recent Bangladeshi sporting record. Shakib is Bangladesh's first and the 28th player in the history of test cricket to score a century and pick up 5 wickets in an innings in a test match in 2011 vs Pakistan.
8. Omar Ishrak [Chairman and Chief Executive Officer of Medtronic]
Previously president and CEO of GE Healthcare Systems, a $12 billion division of GE Healthcare, Omar now heads Medtronic, the world's leading medical technology company, with more than $16 billion in annual revenue, and operations reaching more than 120 countries worldwide.
9. Sumaya Kazi [CEO Sumazi.com]
As founder of a web based social networking platform for professionals, Sumaya has been recognized by BusinessWeek as one of America's "Best Young Entrepreneurs," CNN heralded her as a "Young Person Who Rocks," and by Silicon Valley Business Journal as a "Woman of Influence".
10. Nishat Mazumder [Everest climber]
Nishat, an accountant by profession, hoisted the Bangladeshi flag atop the 8,848-metre-high peak of Mount Everest, becoming the first Bangladeshi woman to make it to the top of the highest mountain in the world. She is a fantastic role model for girls all around the world to reach every height imaginable.