Top Saudi scholars rap massacre in Peshawar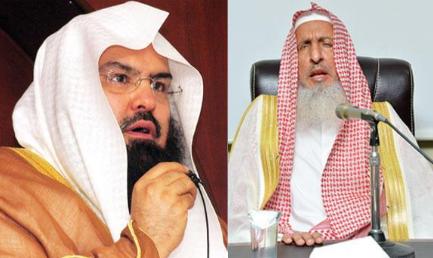 Several religious leaders in Saudi Arabia have slammed those who killed 149 people in an attack on a Pakistan school.
They include Grand Mufti Sheikh Abdul Aziz Al-Asheikh, Grand Mosque imam and khateeb Sheikh Saleh Abu Talib, and Sheikh Abdul Rahman Al-Sudais, president of the Two Holy Mosques Affairs.
"What crime did these children in Pakistan, or the children in Syria, Iraq and other places, commit to be mowed down in broad daylight or driven out to starve and live in fear and cold. Islam does not justify such heinous crimes," Abu Talib said during his Friday sermon.
He said Islam upholds the sanctity of human life, while most of these "deviant" groups show they have no scruples by killing innocent people.
"How can these people kill innocent Muslim children in the name of Islam when Islam does not allow anyone to harm children, even those who fight against the religion."
Abu Talib said the members of these groups mistakenly believe that they are defenders of Islam, while the reality is that they distort its teachings.
They have slowed the spread of the religion, and chosen Muslim schools, houses and markets as their battlefields, he said.
Al-Sudais also condemned the terror attack.
He urged Muslims not to get involved in acts of terror and violence, which threaten the security and stability of communities.
"The blood being shed without any justification is an injustice and creates hostility and terror. Islamic laws revere and protect human life," he said in a statement to the Saudi Press Agency.
Muslims should avoid deviant paths, and should strive for peace and security for all, he said.
He conveyed his condolences to the relatives of the victims and prayed for the speedy recovery of the injured.
Grand Mufti Sheikh Abdul Aziz Al-Asheikh also condemned the attack in his sermon on Friday at the Imam Turki bin Abdullah Mosque in Riyadh.
Warning against television channels and serials that promote violence, Al-Asheikh urged Muslims to ensure their children shun bloodshed and violence.
"Most of the violent programs featured by some channels promote the idea that murder is a simple means of revenge. This is the wrong attitude," he said.
"We should fear Allah and raise our boys and girls and entire society on the concept that bloodshed is unlawful and violence a horrendous crime," he added.
The mufti said Islamic law prohibits terror, violence, and considers the blood of Muslims, and those support them, as sacred.
Islam is a religion of mercy and justice not bloodshed and crimes, he said.
He said Muslims must make every effort to find out what caused this upsurge in violence and ways to prevent it.
The imam and khateeb at the Prophet's Mosque in Madinah Sheikh Ali Al-Hudhaifi urged people to settle their disputes.
"Reconciliation is a gate into Paradise and defense against sedition and evil that affects society," he said in his Friday sermon.