Tower Hamlets Council launches recruitment drive for Muslim adoptive parents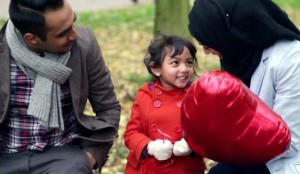 Tower Hamlets Council has today (Monday, January 6) launched a campaign encouraging more Muslim couples to become adoptive parents.
The Tower Hamlets Muslim Adoption Campaign is being supported by prominent figures from the Muslim community and a leading adoption organisation.
Starting today, for the next two months an advert will be shown on Bengali TV channels. It is aimed at Muslims within Tower Hamlets as well as those from across the country.
The 40-second advert features a Muslim couple who do not have children of their own. They look back at how empty their lives seemed before they adopted, before the advert shows them having fun in the park with their adopted daughter.
The advert is aimed at demonstrating how adopting a child can positively transform the adults' lives as well as that of the child.
Mayor Lutfur Rahman said: "As a council we want to make sure that every child is given the best possible start in life. Sometimes this means a child needs to be found a new home and I want to make sure there are enough loving homes available to these children.
"I urge people from the Muslim community who are interested to contact our adoption team to find out more."
Cabinet member for Children, Schools and Families Cllr Oliur Rahman said: "The number of Muslim adopters coming forward is increasing but is still not enough.
"For the good of the borough's children, I hope this campaign is successful. Adopting a child could be the best thing you ever did."
The council believes it is important that adopted children are placed with families of the same ethnic background, and it works hard to do so.
As the Muslim population increases, so too does the number of Muslim children who are in need of a new home, often because of abuse or neglect at their family home.
Unfortunately, the number of Muslim couples coming forward to adopt is not increasing at the same rate, so there are more Muslim children from Tower Hamlets waiting to be adopted than there are Muslim families available to adopt them.
Depending on the reasons for a child needing to be adopted in the first place, it is often also in the interests of the child's safety and wellbeing to move away from their immediate community. This is why Tower Hamlets Council's campaign is a national one.
Tower Hamlets' Muslim Adoption Campaign has been backed by a leading adoption organisation and prominent figures from the Muslim community.
Dr Abul Kalam Azad is a well-known Muslim teacher, TV presenter and charity organiser.
He said: "I am glad to hear that Tower Hamlets Council is going to run a campaign for Muslim adopters which will greatly help promote the needs of religion, culture, diets etc of the Muslim children in care within the community. I wish the campaign every success."
Hafiz Mowlana Shamsul Hoque, the chair of Council of Mosques for Tower Hamlets, said: "The Council of Mosques will inform Mosques in Tower Hamlets about the issues related to Muslim looked-after children.
"Mosque Committee members and Imams will inform all worshippers about the issue of Muslim looked-after children and ask the Muslim community to come forward to work together with Tower Hamlets Council to find a solution."
The British Association for Adoption & Fostering (BAAF) has supported the Tower Hamlets campaign.
Its black, Asian and minority ethnic policy consultant Savita de Sousa said: "Adoption should meet the emotional, developmental and spiritual needs of children, including needs relating to their religious persuasion, racial origin and cultural and linguistic background.
"Children from Asian, African and African-Caribbean communities are amongst the children who wait longer to be adopted and more adopters from every walk of life are desperately needed.
"We are delighted to support Tower Hamlets Council in their campaign to encourage more Muslim adopters to come forward to ensure these children are found a secure, loving and permanent family home."
To find out more about the adoption process, please contact the council's experienced and friendly advisers on 0800 279 9850 or www.fosteringandadoption.co.uk. Bengali-speaking advisers are available.