Tripped in Hungary, given job in Spain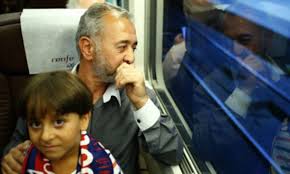 A Spanish football coaching school said Wednesday it is giving a job to a Syrian refugee who made world headlines when a Hungarian journalist tripped him over as he fled.
Osama Abdul Mohsen, former manager of Syrian first division side Al-Fotuwa, was due to arrive late Wednesday in Madrid, where the CENAFE coaches' training school in the suburb of Getafe has offered him a job.
"We are a national coaching school so we decided to help a fellow coach," the school's director Miguel Angel Galan said on the radio after hearing in the media of Mohsen's profession.
Mohsen will come with two of his children and Galan said CENAFE also aimed to bring over the Syrian coach's wife and two other children later.
"They will get the most important things: housing, food, clothes and the job as a coach that we are going to give him."
He said an Arab-speaking member of the school had travelled to Germany to bring Mohsen back to Spain.
Video footage of journalist Petra Laszlo trippingMohsen onto the grass as he ran with his son Zaid in his arms near the Hungary-Serbia border sparked outrage this month. She was fired from the television channel she worked for.
European leaders have been scrambling to respond to the arrival on their soil of hundreds of thousands of refugees from Syria and elsewhere, while negotiating how many each country should receive.
Spain has agreed to take more than 17,000 overall this year.