Turkey, Bangladesh experience best period, says envoy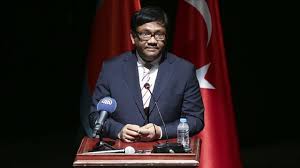 Ankara and Dhaka experience the "best" period in their relations, Bangladeshi ambassador to Turkey Allama Siddiki said.
"When you look at the relations between the countries from past to present, we experience the best period," Siddiki said.
"We have multifaceted relations with Turkey. Our relations have improved in many areas," Siddiki said.
He added a formal process had started to enhance bilateral relations in the areas of economy, trade, tourism, education and defense.
According to the Turkish Statistical Institute (TUIK), the bilateral trade volume between Turkey and Bangladesh was nearly $1 billion in 2017.
Siddiki said Bangladesh holds Turkey in high esteem.
"The word 'Turkey' is well known in Bangladesh. There is reverence and love for Turkey and Turkish people. We like Turkish people," he added.
Siddiki said they took advantage of this brotherhood between the two countries in the areas of trade, investment and tourism.