Turkey urges global action on Rohingya Muslims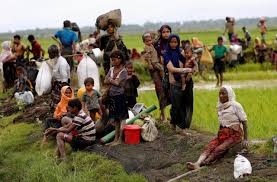 Turkey has called on the international community to put pressure on Myanmar's government to stop the killing and displacement of Rohingya Muslims in Rakhine state.
Foreign Minister Mevlut Cavusoglu on Saturday said Turkey has so far delivered more than $70 million in humanitarian aid to the Rohingya, but delivering aid is not enough.
"In two weeks, we need to hold a meeting in New York with the UN secretary-general, leaders of Muslim countries, international organizations, the head of the UN Advisory Commission on Rakhine State, Kofi Annan, and other leaders to solve this issue," he said.
"We've called upon the Organization of Islamic Cooperation (OIC). We'll organize a summit this year on the issue. We have to find a definitive solution to this problem."
Cavusoglu also urged the Bangladeshi government to "open its doors" to Rohingya Muslims, and pledged to cover all costs to accommodate them.
Meanwhile, Turkish President Recep Tayyip Erdogan, who has accused Myanmar of "genocide" against the Rohingya, continued his telephone diplomacy with the leaders of Senegal, Nigeria and Kazakhstan, the state-run Anadolu Agency reported.
He is expected to discuss the crisis on the phone with the leaders of Pakistan, Iran, Mauritania, Qatar, Saudi Arabia, Kuwait, Azerbaijan and Bangladesh this week. Meanwhile, Cavusoglu spoke with former UN Secretary-General Annan.
Dr. Altay Atli, a research associate at Sabanci University's Istanbul Policy Center, said Turkey can draw global attention to the tragedy and facilitate multilateral steps to resolve the issue.
"I see, however, two obstacles in this respect," Atli told Arab News. "One is related to what I call 'democracy illusion' in Myanmar. There's a democratic transition, the junta has left, there were elections, but democratization takes time."
With the international community buying into this "democracy illusion," it turned a blind eye to ongoing undemocratic practices, including the situation of ethnic minorities, he said.
Furthermore, Western countries want to access Myanmar's natural resources and counterbalance China's influence there, Atli added.
"The second problem relates to the OIC's inability to act in unison, make binding decisions and enforce them," he said.
Talip Kucukcan, a lawmaker from Turkey's ruling Justice and Development Party, said Ankara has taken the lead in raising awareness about the plight of the Rohingya, and calls on the international community to take effective steps to prevent a humanitarian disaster.
"The lack of response around the world indicates that UN and other agencies are becoming useless entities," he said.
"Ankara couldn't remain silent over the plight of Rohingya Muslims, not because Turks belong to the same religion, but due to Turkey's emphasis and investment in humanitarian assistance worldwide."
Turkey hosts the largest number of refugees in the world, and provides humanitarian assistance in more than 100 countries regardless of religion or ethnicity, said Kucukcan.
Francis Wade, an analyst who has published a book entitled "Myanmar's Enemy Within: Buddhist Violence And The Making Of A Muslim Other," said Turkey's calls are welcome, but the government should be more careful in its approach and not circulate wrong pictures of apparent victims of the violence. That doesn't help the situation and only inflames anger on both sides, he said.
"All countries need to engage over this issue, given the worsening situation there, and put pressure on the government to condemn military attacks. It needs to be done carefully and with the understanding that any statement that emphasizes an "us versus them" stance will greatly complicate any resolution," Wade added.