Turkey's elects two headscarved mayors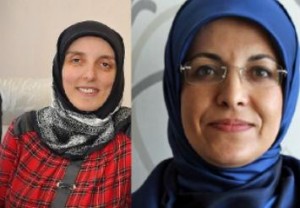 AK Party Chairman Mustafa Ulvi Bezirci said Fatma Toru won the 2014 municipal elections in Meram district of Konya. She became the first headscarved mayor according to the initial results announced by Bezirci in a statement.
Toru was born in 1972 in Konya and graduated from the Department of Surveying Engineering of Selcuk Unversity. She worked in Meram Municipality's Caybasi Urban Transformation Project chief. Fatma Toru is married and has 2 children.
The second succcessful headscarved candidate is AK Party's Havva Yildirim, who was voted in as the head of the municipality of Gudul in Ankara.
In a country where the wearing of the headscarf in parliament was banned until late 2013, the election of the two mayors is a groundbreaking moment in Turkey's history as a secular republic.
After the ban was lifted following the announcement of Prime Minister Erdogan's democratization packet, four female lawmakers already in parliament adopted the headscarf.