Turkish couple feed 4,000 Syrian refugees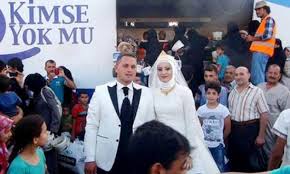 A Turkish couple who married last week broke tradition and invited 4,000 Syrian refugees to celebrate with them, in a report in The Independent.
Ali Uzumcuoglu and his bride, who were not named in local media reports, married in  Kilis province on the Syrian border, which is currently home to thousands of refugees escaping conflict in the neighbouring country.
It's traditional for Turkish weddings to last between Tuesday to Thursday, with a  banquet on the last night, but this couple decided they wanted a celebration with a difference.
Hatice Avci, a spokesperson for aid organisation Kimse Yok Mu, who spoke with i100.co.uk that the charity is responsible for feeding 4,000 refugees at a camp near the town of Kilis, but last Thursday the newlyweds donated the savings their families had put together for a party to share their wedding with the people living in the nearby camp instead.
The wedding guests also banded together to operate the food trucks and share the wedding meal with refugee families.
The bride and groom helped distribute the meal themselves and took their wedding pictures with people at the camp, according to local media.
The groom's father, Ali Anant, told the Serhat Kilis Gazzette that the family just wanted to share a bit of their happiness with those less fortunate
"Our wedding dinner is such a happy occasion for us and in the name of our Syrian brothers we wanted to employ the help of Kimse Yok Mu. Hopefully this will be the beginning of other wedding dinners shared here with our Syrian brothers… It was certainly different. ".