Turkish Jewish community hosts Ramadan Iftar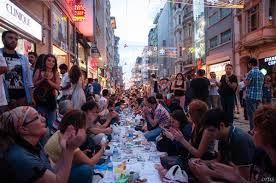 Turkey's Jewish community held an Iftar for hundreds of Muslims earlier this week as a form of appreciation for the restoration of the recently reopened historical Edirne Synagogue, Turkish newspaper Hurriyet Daily News reported.
The head of the Turkish Jewish community said inviting 700 people to break their fast with fellow Turks was a convenient way of saying thank you.
"We thought that the most convenient way to thank people in Edirne was to share an iftar meal with them. We thank them all very much. We returned to Edirne and found a more beautiful home than our own," İshak İbrahimzadeh was quoted by the Turkish daily as saying.
The General Directorate for Foundations led the restoration of the synagogue, which resumed prayer services on March 26.
Osman Guneren, the head of the directorate also attended the event.
Leading Jewish figures in Turkey helped with the banquet, on occasion serving fasting guests themselves.
Controversy surrounded the synagogue after Edirne Governor Dursun Ali Şahin said it would not be open for worship when restoration is completed in retaliation to an Israeli army raid on the Al Aqsa mosque in East Jerusalem at the time.
Four months later, the Edirne Synagogue opened its doors to worshippers.
Sahin later issued an apology saying that the events in Jerusalem were not related to Turkish Jews.
Built in 1907, Edirne's synagogue is modeled after the Leopoldstadter Tempel in Vienna, according to Hurriyet Daily. It stands as Europe's second-largest synagogue.