Turkish president opens mosque in Kyrgyzstan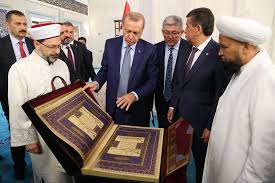 Turkish President Recep Tayyip Erdogan inaugurated the Central Imam Serahsi Mosque in the Kyrgyz capital Bishkek on Sunday.
"I hope that […] this monument will ensure to strengthen the bonds of common religion, language, history, culture, and brotherhood between Kyrgyzstan and our country," Erdogan said.
"I hope that this work will become a symbol of unity and, peace among brother [countries] because we are two semi-states but one nation.
"Above all, we are [part of the Muslim] Ummah," Erdogan added.
The mosque which can accommodate 20,000 worshippers is spread over 7,000 square meters.
Erdogan accompanied by Turkish ministers began a three-day visit to Kyrgyzstan on Saturday.