Two million copies of Qur'an to be distributed among pilgrims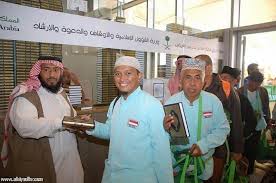 The Ministry of Islamic Affairs, Endowments, Call and Guidance has started the distribution of copies of the Holy Qur'an among pilgrims who have started returning to their home countries after Haj, according to the Saudi Press Agency .
Talal Al-Aqeel, director general of the ministry's office in Makkah and chairman of the committee for distribution of gifts, said that the ministry will distribute more than 2 million copies of the Qur'an among departing pilgrims in the corridors of King Abdulaziz International Airport and Jeddah Islamic Port, in addition to other corridors and land routes. These copies are printed at Madinah's King Fahd Complex for the Printing of the Holy Qur'an.
This distribution includes translation of the Qur'an into a number of languages including Urdu, Hosa, English, French, Thai, Indonesian, Chinese, Spanish, Malayalam, Russian, Turkish, German and Albanian.
The ministry has created 50 points of distribution manned by one thousand employees round the clock till next month. All pilgrims will get the copy of Qur'an as a gift with an envelope consisting of four books and tapes explaining Islam to help Muslims understand Shariah, SPA said.