UAE company unveils world's most secure phone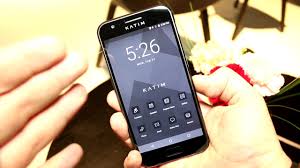 DarkMatter, an Emirati company specialized in cyber security solutions, has launched a secure smart phone named KATIM, which the company described as the most secure communications suite in the world.
KATIM is the first phone produced by the UAE but what truly distinguishes it is that it's completely secure even from Israeli companies which are specialized in decoding data.
The phone's design provides the maximum cyber security and it has been designed as the most secure across the world. Possessing it is limited to top government and security officials.
Moralist hackers were allowed to try KATIM when it was unveiled at the Mobile World Congress 2017, which was held in Barcelona last week. They tried to hack its data but they completely failed.
The company added that the phone enjoys a self-destructive technology in which the phone destroys all sensitive data in case there is any prohibited access.
Some media reports said US President Donald Trump ordered his security team to follow up on the news of this new Emirati phone, test it so he can buy it, and use it.