UK braced for severe storms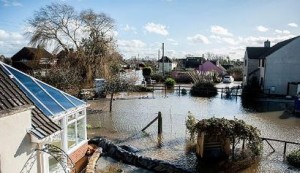 The UK is once again on alert as winds up to 80mph and heavy rain are expected to sweep in from the Atlantic on Saturday, threatening more flooding.
The Met Office has said that the South West of the country, and South Wales were the first areas to be affected on Saturday, and warned that the storm is expected to continue over southern England until Sunday.
Homes across the UK will face more power cuts, as cars still remain under water, and roads are closed.
The Met Office has issued various weather warnings, including an amber, "be prepared" warning until Sunday. Meanwhile, the Environment Agency has two "danger to life" flood warnings placed on Somerset and the surrounding regions.
UK Prime Minister David Cameron visited parts of Somerset that have been most affected by the floods on Friday, promising to do "everything possible" to help people affected by the storms.
The UK government has announced it will spend £130 million of new funds to shore up protection in the next two years.
In addition, the Ministry of Defense appointed 1,500 military personnel to assist those affected from the floods, while the government's disaster committee – Cobra is expected to meet over the weekend.